Today was the last day of my semi-slothful... I mean, restful... vacation.
I finally finished this...Kingston's afghan! Yay!
This isn't actually the finished version. I took this yesterday... and today, finished those edges a little better so they curl less. The colors are cream, chocolate, pistachio, and blue mint... yummy-scrummy-umptious!
I also tried to make a project with this yarn.
I wanted to create something whimsical and feminine...perhaps in the form of a fashion scarf. It didn't work. Has anyone tried to crochet with this stuff? It's mighty difficult! It's soft as butter, which is a good thing, but those knobs make it impossible to see your stitches.
I tried myriad patterns and hook sizes, to no avail.
Maybe it's better suited to knitters. Any knitters out there that can attest to the ability to use this yarn? I know that Kristiina has worked with it on a loom, and I'm wondering if needle knitters could also use it. My thought is that knitters can use it because throughout their project, they're transferring stitches from needle to needle making them easier to see. True? (I don't know anything about knitting, so I'm in the dark.)
-----
We had a pleasant first-day-of-the-year yesterday. Nic, Kristiina and the kids came over for dinner. We nibbled on cheese, crackers and pepperoni, watched football, then ate so much dinner, that we (at least I) didn't even think about coffee and dessert afterward. Just as well, I suppose.
I'm going to have to live on rabbit food for a few weeks; not because I succumbed to the holiday snacks, meals and sweets so much, as I was far less active with all this time off I've had. That's pretty pitiful, considering I, for the most part, sit at a desk for a living!
The weather wasn't conducive to doing much in the way of burning calories. If it was warm enough to venture out, it was drizzly wet. If the sun was shining, it was bitter cold. Meh. Oh well. I'm rested.
Here are a couple clips of the kids from yesterday. Kingston LOVED being tossed between Nic and Joe... watch!
And precious Aria. Just her sweet expressions and almost smiles...
-----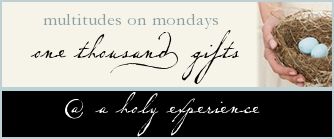 See my 12/31/11 post for a long, pictorial list of thankfulness.