Last night was soup and sandwiches night. Mmmm, such wonderful cold-weather food.
We had potato soup and tuna melts... inspired by Kristiina when she made potato soup and grilled cheese last week.
Yes, home just a few days with her newborn, and she was in the kitchen cooking supper (while I got to hold Aria and play cars with Kingston)!
Thankfully, she's recovering phenomenally well! But, with a toddler and a newborn, four hands were definitely needed. Nic was working, but I was able to take the week off to help her. This week could prove to be a challenge when I have to head back to work. I know she'll work out a schedule and find a way that works for them. I just hope she's able to get enough rest!
I'm not sure how Kristiina prepares her potato soup, but here's my recipe:
Hearty Potato Soup




Ingredients

6

Potatoes, Large, Peeled And Diced

2

Carrots, Washed And Diced Small

1

Onion, Peeled And Diced

3 cups

Chicken Broth (I like to use homemade bone broth)

2 cup

s Whole

Milk (raw, if possible)

1 cup

Shredded Cheddar Cheese

2 cups Diced

Ham

1 cup

Sour Cream, Divided

Desired Toppings: Shredded Cheddar, Chopped Bacon, Sour Cream
Preparation Instructions
Saute onion and carrot till onion is translucent. Add chicken stock and potatoes, simmer for about 45 minutes. Add the milk; heat through. Add cheese, ham, 1/2 cup sour cream and heat through till cheese is melted. Salt and pepper to taste.




Serve with desired toppings: shredded cheddar, chopped bacon, the remaining sour cream.
Mmmm mmmm good. It was a hit with Joe, too... the guy who will usually pass up the soup went back for a second bowl.

So, as I was saying... I have to go back to work this week. I loved being able to spend time with the ones who make my heart sing; I'll miss it. Fortunately, it's just a two-day week, then off for Thanksgiving. Yay! I'm happy that we get Wednesday off, too.

I spent so much time last week ogling Aria and playing with Kingston, that I took very few photos - unbelievable! I have this short video clip from the hospital, though...


It's of Kingston wanting to try the video camera.
And then this one of him doing it himself. :-) (Sorry about the back light. It was more about Kingston getting to use the camera than it was about getting a good video of Kristiina and Aria.)
So many things to be thankful for!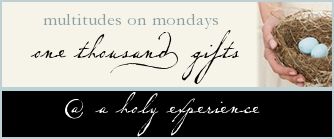 warm soup for chilled bones
a toddler who is delighted to have become a big brother
baby girls and their delicate ways
competent, compassionate healthcare providers
epidurals and that she decided to get one
good health and quick healing
two-day work-weeks
holidays with family
deep love
deep joy
grace
faith