So, I mentioned on Friday that I was a bit under the weather. Joe, too. We both just relaxed around the house.
When the sun decided to come out, though, I had to get up off the couch and head outside. Not quite up for a hike, I decided just to sit on the front porch.
Right here, in this seat.
Armed with my camera (video, too), my laptop for music or maybe reading, and my crocheting, I was ready to stay a good long while and soak it up.
The sun, filtered through the trees, warmed me just enough to appreciate the cool seasonal change of a crisp autumn day.
And I sat still, just relishing it; the simplicity and yet the magnificance of wind passing through mostly leafless trees and them swaying against an October sky.
I felt small under their extreme height, and yet somehow very significant.
I watched for a long while, pondering and thanking.
When I turned to my computer to find music, I checked a few regular cyber stops first, and found this from
Ann Voskamp
. The first from her new study.
When she says, "I enjoy reading stacks of books, baking bread, spending time with my kids, working in the garden, and snapping photos of my family and my world" that resonates with me. I do, too (you could have probably guessed). And how she seeks to give thanks and find joy in the simplest of blessings; I appreciate that, and aspire to do the same.
This is just a two minute trailer...
But if you want to spend a bit more time, just about 25 minutes, this is
Session 1
.
"Change takes real intentionality..."
I'm going to enjoy this study.
I stayed outside until the sun dipped too low to provide a comfortable temperature, and apparantly, the quiet, the sun, the wind, the thanksgiving... it was just what the doctor ordered.
That nasty head cold is all gone and we were able to spend some time with the kids on Saturday and Sunday. Stay tuned for a pumpkin-carving post!
We're expecting a storm tonight and tomorrow... and throughout the week, apparantly. Sandy is making her way in our direction. We're already feeling wind gusts, but the eye isn't expected to pass over us until Thursday or Friday. Some are saying that it could be like Irene was; a steady, prolonged rain, only add wind gusts to the constant deluge. Oh, I hope it's not like Irene. Vermont was impressively resilient (latest motto is to be Vermont Strong!), but it was devastating.
One never really knows until it arrives how strong it will be. We're prepared with propane for the grill and plenty of candles and water in case we lose power.
Whatever happens, we'll be fine.
The wind and waves still know His voice...
But it is so surreal to be preparing for a hurricane IN VERMONT two years in a row. Really thought hurricane preparedness was behind us when we left Florida!
Here's a link to
The Vermont Standard
for updates on the storm in case we lose power and, therefore, internet. In that case... be back when the power is on!!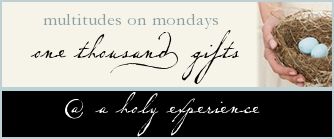 Thankful for ~
changing seasons

quiet moments

birds at the feeder

the power of His name

peace, therefore