So... Time.com has touted Woodstock #1 on it's list of Nine Most Christmassy Towns in America!
Discouragingly for me, the last two Christmas' (the only two I've been here), Woodstock's Wassail Weekend has been a green weekend. No snow. It would be so much more romantic, magical, Christmassy if there were just snow on the ground. I think so, anyway.
Well... here. This picture speaks to the wonder of having had snow this weekend...
Not mine... I got it from the Time.com site.


Here's what the Time website had to say:
Is there a better place to celebrate Christmas than Vermont, where the air has a fragrance of pine needles and the ground is (most likely) dusted with snow? For the past 25 years, Woodstock has hosted Wassail Weekend, a pre-Christmas festival that is rooted in 19th century Norse culture and traditions. While the city itself is a sight to see during the holiday season, Wassail Weekend brings a distinctive parade of more than 50 horses and riders adorned in holiday costumes and period dress, as well as wagon and sleigh rides, a wassail feast and tours of the city's most notable historic buildings. (Wassail is a hot beverage, often something akin to cider, associated with Christmastime.) The city even makes it easy to complete (or start) your holiday shopping: throughout the festival, local shops stay open late, with enticing window displays that appear to be plucked from a movie scene. It's everything you imagine Christmas to be, but so much more.
I remember seeing Woodstock's Wassail Weekend on HGTV some years ago while I lived in Florida... and to think I now live 15 minutes from what they describe as "the prettiest small town in America!"
We were there yesterday! Kingston's nap (or lack thereof, actually) interfered with our getting there in time for the parade, as hoped (he takes one nap in the middle of the day... the parade was at 2PM. Not good timing), but we managed to participate in the Yule Log lighting and Christmas Carol sing. Just look!
He was awfully interested in the group singing over grandpa's shoulder. They were a happy bunch of young people.
The expression on his face in this one is awesome! I watch it over and over again.
Our happy Kingston!
Aw... all that fresh air and running wore him out. Beautiful, peaceful boy.
What's Wassail, anyway?
Again, not my photo. Taken from Wassail Wows website.



Raise a cup to a yuletide holiday tradition with a steaming cup of wassail.

Ingredients:
1 gallon apple cider
2 cups orange juice
8 cinnamon sticks
10 to 12 whole cloves
2 to 3 star anise
1 tablespoon allspice berries
1 lemon, quartered
2 oranges, sliced
1 cup sugar (white or brown)
1 gallon white wine
2 cups rum
lemon slices to garnish
cheesecloth (optional)
Directions:
In a large stockpot over low heat, combine cider, juice, spices, fruit and sugar. (Cheesecloth works well to hold solid pieces, and makes them easy to remove from liquid.) Simmer for 1-1/2 to 2 hours. Remove the pot from heat. If cheesecloth wasn't used, strain and discard solid ingredients and return the liquid to the pot, and add the wine and rum. Return the mix to the heat to warm through. Once steam begins rising from the surface, the wassail is ready to ladle into mugs. Serve immediately.
I'm going to have to try this recipe (and I promise to tell you how it is when I do), because I just love hot, spiced cider... and I bet it's delicious with a bit of white wine and rum added to it! Mmmm.
And, this is interesting. Wikipedia has the following to say:
Although wassailing is often described in innocuous and sometimes nostalgic terms (my endearing view), the practice in England has not always been considered so innocent. Wassailing was associated with rowdy bands of young men who would enter the homes of wealthy neighbors and demand free food and drink in a trick-or-treat fashion. If the householder refused, he was usually cursed, and occasionally his house was vandalized. The example of the exchange is seen in their demand for "figgy pudding" and "good cheer", i.e., the wassail beverage, without which the wassailers in the song will not leave; "We won't go until we get some, so bring some out here."
I enjoy the warm-fuzzy feeling of the Christmas season; the happy camaderie, the pretty decorations, the concerts and programs bringing the Christmas message, the fun events like this weekend's Wassailing in Woodstock.
The legend of the "figgy pudding" and "good cheer" lyrics in the popular Christmas song, however, remind me of the depravity of men's hearts; the greed, the selfishness, the indulgence, the soul-poverty that it also so prevalent this time of year.
It's the ugliness of Christmas that makes me remember and be thankful for the overwhelming beauty of it. The reason He came; that we might have life, and have it to the full (John 10:10). He's our promise for today and He's our promise of life eternal.
The Word became flesh and made his dwelling among us.
We have seen his glory, the glory of the one and only Son,
who came from the Father, full of grace and truth. ~John 1:14
My breath catches when I read those words.
For God so loved the world that he gave his one and only Son,
that whoever believes in him shall not perish but have eternal life.
For God did not send his Son into the world to condemn the world,
but to save the world through him.
Whoever believes in him is not condemned,
but whoever does not believe stands condemned already
because they have not believed in the name of God's one and only Son.~John 3:16-18
It's my prayer that in the midst of the tinsel and lights, the shopping, the wrapping and the frenzy, you know and experience His peace and presence.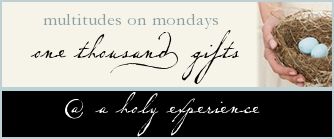 I'm thankful for:
blue skies on a winter day
cozy afternoons and a fire
how frequently he and I laugh
the warmth from the eight
nimble fingers and a hook
feel-good food
faraway friends and plans for a visit
Sunday morning assembly
the authenticity of the pastor
Little Man's laughter
his playfulness
watching him grow and learn
Little One's bright eyes and soft voice
the friendship of a daughter
when circumstances require dependence on Him
my encouraging mom who always offers her warm comments here